Industrial grinding mills are mainly used in non-metallic mines, coal mines, industrial solid waste, environmental protection, and deep processing of building materials and minerals. It is a favorite mill equipment in many mineral powder markets.
Among them, the product fineness of the
CLIRIK ultra-fine grinding mill
can be adjusted between 200-3000 mesh, and the fineness is controllable and adjustable. It is suitable for grinding marble ore, limestone ore, barite ore, gypsum ore, talc ore and other minerals.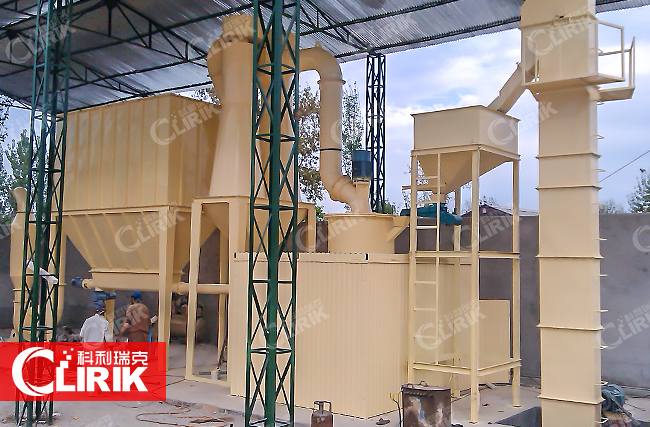 1. The output is low, the particle size of the finished product is too fine, and the particle size of the finished product is too coarse
Reasons:
Wear of grinding rollers, grinding rings and blades;
The analysis machine blade is damaged and the air volume is large;
The analysis machine can pass if the speed is high, the air volume is small, etc.
Solutions:
Replace the corresponding accessories;
Replace with new blades, and appropriately turn off the air inlet of the fan;
Reduce the rotational speed of the analyzer and increase the air inlet of the fan to improve the product.
2. No powder, less powder, spray powder around the feed inlet to block the air duct
Reasons:
Lax sealing;
The powder locker is not tightly sealed, causing back suction;
Improper air volume adjustment;
Uneven cutting, etc.
Solutions:
Strictly seal with reference to installation requirements;
Check the powder locker, no back suction phenomenon is allowed;
Generally, the large air door should be opened to 3/4, and the exhaust door should be opened to not spray powder, but it does not need to be too large;
Look at the material of the ammeter. When there is no ammeter device, only listen to the sound of the material. If the material is too much, the air duct will be blocked.
3. The powder feeding bearing of the grinding roller device is easy to be damaged
Reasons:
The oil is cut off or the sealing ring is damaged;
Long-term lack of maintenance and cleaning.
Solutions:
Refuel in time according to the stipulated time;
Clean and replace the oil seal regularly.
Who are WE?
Shanghai CLIRIK Machinery Co.,Ltd. has been committed to the field of ultra-fine powder grinding machines for 20 years.

CLIRIK has a first-class manufacturing base with standardized and intelligent production lines.
CLIRIK's professional R&D, sales, installation and after-sales teams have provided door-to-door services to more than 100 countries and regions.

CLIRIK provide solutions for grinding/crushing and screening

The common choice of 1000+ customers, tailor-made solutions for you
More than 30 years of experience in R&D and manufacturing, and 120+ countries and regions coverage to jointly witness high-quality quality
Systematic and standardized process, safer and more efficient from service to preparation and delivery
Finished product analysis-project declaration-process design-material trial grinding-infrastructure guidance-installation and commissioning-training guidance-project acceptance-after-sales service
Here are 4 reasons to choose CLIRIK
1. Factory direct supply
The source manufacturer has no middleman, higher cost performance, large quantity and excellent quality, ingenuity
2. Ingenuity
Automatic equipment production, the pipe wall is thicker and resistant to compression and deformation, environmentally friendly materials are harmless, and support customization
3. Support customization
Can be specially designed according to customer requirements, support various environmental program customization, strictly inspect the quality before leaving the factory, and improve the service
4. Perfect service
One-stop pre-sales and after-sales service, on-site survey, on-site installation, 7x24 hours after-sales service
CLIRIK business areas
1. Industrial milling
Grinding particle size: covering 0-3mm coarse powder; 20-400 mesh fine powder; 400-3250 mesh superfine powder
2. Gravel aggregate
Crushing field: various soft, medium and hard ores; coarse crushing/medium crushing/fine crushing, sand making, sand washing, feeding, screening, conveying, etc.
3. Various ores
Application: various soft, medium and hard metal ore crushing, conveying, grinding, powder selection, powder collection, dust removal, packaging, automatic control, etc.
4. Building materials
Building materials field: tailor-made solutions and high-quality supporting equipment provide green, environmental protection and high added value.
How to get your latest quotation?
You can leave a message online or contact CLIRIK directly:
Email: sales@clirik.com
WhatsApp: +8613512155195/+8613917147829