Over View
Features
Applications
Technical Data
| | |
| --- | --- |
| Raw materials: | calcite, chalk, limestone, dolomite, kaolin, gypsum, and talc etc, totally more than 100 kinds of materials. |
| Capacity: | 0.5-30t/h |
| Finished Size: | 150-2500 mesh (100-5µm) |
| Application: | widely used in small and medium mining, chemicals, building materials, metallurgy, refractories, pharmaceuticals, cement and other industries. |
| Shipping ports: | Shanghai, China |
| Delivery: | 15 days after received the deposit |
HGM series micro powder grinding mill is the new type mining equipment for making micro powders, fine powders,which is widely applied in the industries of metallurgy, mining, chemistry, cement, construction, refractory materials, ceramics, and so on.The purpose of the micro powder grinding millis for super-fine grinding materials with hardness less than 6 in Moh's scale and humidity less than 6 percent such as kaolin, limestone, calcite, marble, talcum, barite, gypsum, dolomite, bentonite mud, mica, pyrophyllite, sepiolite, carbon black, diatomite, graphite, alunite, fluorite, potassium feldspar, phosphorite, pigment, up to 200 kinds.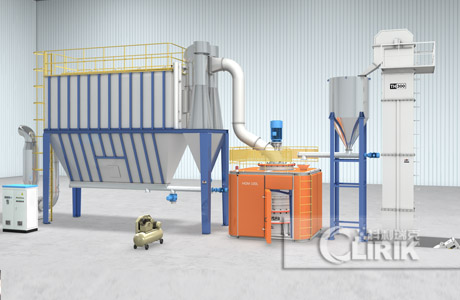 HGM series micro powder grinding mill mainly consist of main unit, classifier, dust cleaner, powder collector, filter bags, blower, muffler, hammer crusher (can be replaced by jaw crusher, bucket elevator, sound-proof room, storage hopper, vibrating feeder and so on. In the main unit grinding chamber, the materials are grinded into micro powder by the rollers through the action of 3-4 layers of grinding rings. The powder clings to the surface of the grinding cavity and is collected into the powder collector with the airflow.
1. The grinding mill of HGM series is high efficient (twice as much as jet mill, mixing grinder and ball mill)

2. The spare parts of grinding mills can serve much longer time (2-3 times longer than that of impact mill or turbo mill.
3. High safety and reliability of the ultrafine mill (no rolling bearings and screws in the grinding cavity, so no problems caused by the wear of bearings or screws)
4. The HGM Grinding mills are characterized by high fineness (final size: 325-3000 mesh, D97<5 micron)
5. Environment-friendly

HGM series Micro Powder Grinding Mill is the new type mining equipment for making micro powders, fine powders,which is widely applied in the industries of metallurgy, mining, chemistry, cement, construction, refractory materials, ceramics, and so on
Parameters of HGM Series Ultrafine Grinding Mill
Model
HGM80
HGM80A
HGM90L
HGM100L-Ⅱ
HGM100P
HGM125L
HGM1680L
Ring Diameter(mm)
800
800
900
1000
1000
1250
1680
Ring Number (PCS)
3
3
4
4
4
4
4
Input Size (mm)
≤10
≤10
≤10
≤15
≤15
≤20
≤20
Output Size (mesh)
150-3000
150-3000
150-3000
150-3000
150-3000
150-3000
150-3000
Capacity (t/h)
0.5-5.5
0.5-5.5
0.8-6.5
1.2-10
1.2-11
2.5-20
5-45
Outlet Size L*W*H (mm)
8605*4139*6050
10454*3393*6626
11735*3952*7525
14507*3633*7562
14362*4200*7562
19261*4406*8591
25067*5414*9007
Main Motor Power (kw)
75
75
55*2
132/75*2
132/75*2
185
315