HGM Ultrafine Powder Grinding Mill for Non-metallic Mineral Ores
It is made by Shanghai Clirik Machinery Co., Ltd.
Output Fineness: 150-3000 mesh
Capacity: 0.5-45 tons per hour
Available Materials: : Lime Stone| Dolomite| Gypsum| Calcite| Feldspar| Barite| Kaolin Clay| Talc| Mica| Illite| Coal| Basalt| Fluorite| Rockphosphate| Pumice| Fly Ash| Carbon Black...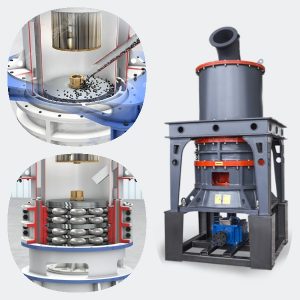 Parameters of HGM125 ultrafine powder grinding mill
Ring Diameter: 1250 mm
Ring Number: 4 layers
Roller Number: 30-40 pieces
Main Shaft Speed: 135-155 r.p.m
Input Size: less than 20 mm
Finished Size: 100-6 microns(150-2000 mesh)
Capacity: 2.5-20 t/h
Overall Dimension: 27.3*4.2*9.9 m
Grinding Unit Power: 185-200 KW
Classifier Power: 75 KW
Blower Power: 110 KW
Crusher Power: 45 KW
Bucket Elevator Power: 4 KW
Feeder Power: 1.5 KW
Discharging Power: 1.5 KW
Air Compressor Power: 37 KW
Who we are?
Shanghai CLIRIK Machinery Co.,Ltd. has been committed to the field of ultra-fine powder grinding machines for 20 years.
CLIRIK has a first-class manufacturing base with standardized and intelligent production lines.
CLIRIK's professional R&D, sales, installation and after-sales teams have provided door-to-door services to more than 100 countries and regions.
Which models can be selected for processing ultra-fine powder making?
HGM grinding mill: 74-5 micron(200-2500 mesh); D97=5 micron
YGM Raymond mill: 613-33 micron(30-325 mesh); D90=30 micron
CLUM vertical roller mill: 20-5 micron(600-3000 mesh); D50=2 micron D97=4 micron
How to get the latest quotation?
You can leave a message online or contact CLIRIK directly:
Email: sales@clirik.com
WhatsApp: +8613512155195/+8613917147829