The complete stone pulverizer equipment includes stone crushing, screening, and grinding equipment, which can be widely used in granite, limestone, quartz stone, marble, potassium feldspar, river pebble, etc. The hardness is lower than 9.3, and the humidity is lower than 6. % of non-metallic ores are milled.
According to the properties of the stone and the user's demand for output, our equipment configuration for the entire production line is also very different, so how to choose the stone grinding production line equipment that is more suitable for your needs?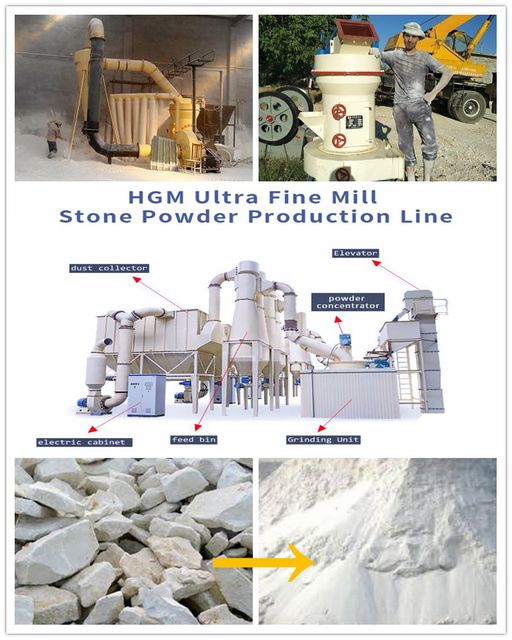 1. Introduction of classification of stone grinding equipment
There are many kinds of stone grinding equipment, generally including coarse crushing equipment: jaw crusher, which is usually used for primary crushing of stones; medium and fine crushing equipment: cone crusher, impact crusher, hammer crusher, etc., usually these equipment It is used for secondary crushing of the stone to the particle size of the grinding;
grinding equipment: Raymond mill, ultra-fine mill, etc., used to grind the stone; auxiliary equipment: vibrating feeder, Circular vibrating screen, belt conveyor, dust collector, etc.
2. There are "coups" in the selection of stone grinding equipment
1. Clearly recognize the properties of stones
The attribute here naturally refers to hardness. Each machine can adapt to the different hardness of materials, such as granite, river pebbles, etc. with higher hardness. We can usually choose the combination of jaw crusher + cone crusher + pulverizer. In this way, not only the crushing ratio is large, but the product quality is also better.
If the user chooses soft stones, such as limestone, coal, etc., we can choose the combination of jaw crusher + impact crusher + pulverizer, which can make the stone play a greater value.
Choosing the right machine according to the hardness of the stone can create greater value.
2. Clarify your needs for product quality
Some users have stricter requirements on product quality and higher standards for machines, but such powerful machines are more expensive, but users don't have to worry, we can not only save users' costs and reduce energy by rationally matching other equipment. consumption, and can create higher profits for users.
3. Users should understand their own production status
The price difference of each combination is not small, and the capital of each manufacturer is also different. Therefore, when users choose to buy equipment, they should consider their own production status, whether they can afford it, and obtain large benefits with a small investment.