Hello everyone,
This is Andy from Shanghai Clirik Machinery Co., Ltd., our factory manufactures mineral grinding mills. Today I will introduce you the YGM series high-pressure suspension grinding mill.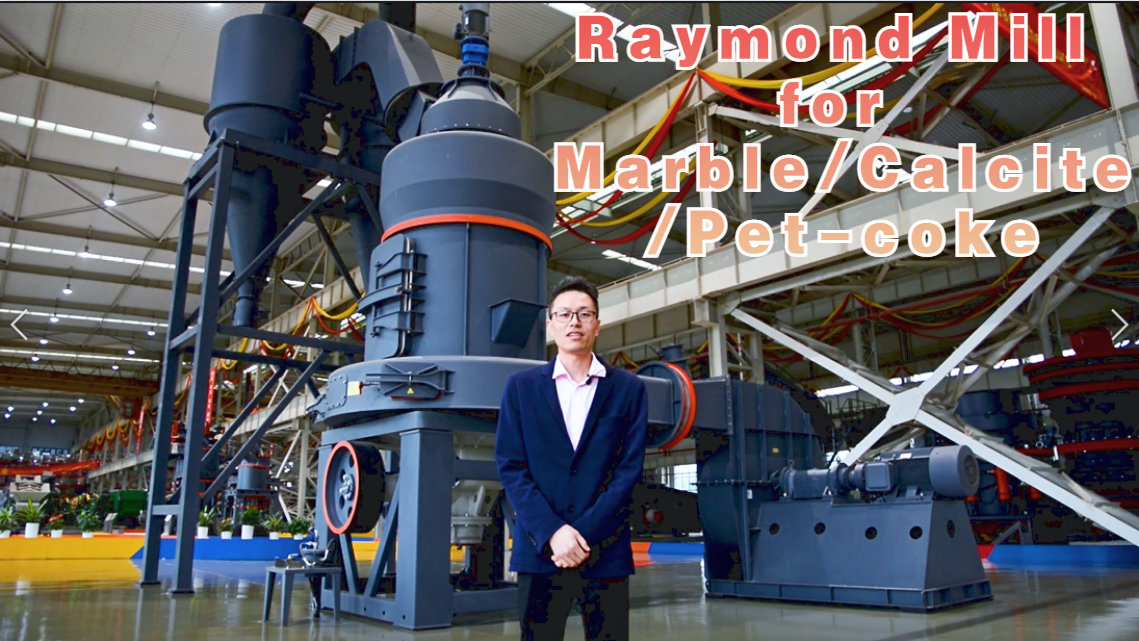 Raymond mill for Marble/Calcite/Pet-coke
Firstly I would like to introduce the whole line components, the whole line is including first is the jaw crusher, after jaw crusher, the big particles are crushed into small particles.
Then we use the bucket elevator to send the small particles into the silos.
After the silo, we will use a vibrating feeder to send into the main mill,
And in the lower part of the machine, the roller and the ring crush the small particles into powders.
Then the classifier sends the final powders out.
You know our classifier is a special design, we call it the mouse cage design.
It's of higher efficiency and more efficient.
After that, the final powders get out from the powder collector, little powders will go into the pulse bag filter.
We collect together through the screw conveyor and discharge through one discharging valve.
Then we pack them into powders or send them into trucks for loading.

OK, this is the whole line working principle, and now I will introduce you to the main mill.
This is our main mill, as you can see, and you see the blower is here, the main machine is here.
On the inside, especially the inside for the spare parts like the roller, the ring, we use special anti-wear resistance steel.
And for normal materials like marble, calcite, the spare parts can use about 12-15 months.
And this machine is suitable for more than one hundred kinds of minerals like marble, calcite, especially for pet-coke and other related materials.

So if you have any inquiries, and you can contact us, just inform us of your raw material, output size, and capacity.
Then we will send you the detailed quotation and design for your reference.
OK, welcome to contact Clirik.
Who we are?

Shanghai CLIRIK Machinery Co.,Ltd. has been committed to the field of ultra-fine powder grinding machines for 20 years.
CLIRIK has a first-class manufacturing base with standardized and intelligent production lines.
CLIRIK's professional R&D, sales, installation and after-sales teams have provided door-to-door services to more than 100 countries and regions.
Which models can be selected for processing ultra-fine powder?

HGM grinding mill: 74-5 micron(200-2500 mesh); D97=5 micron
YGM Raymond mill: 613-33 micron(30-325 mesh); D90=30 micron
CLUM vertical roller mill: 20-5 micron(600-3000 mesh); D50=2 micron D97=4 micron
How to get the latest quotation?

You can leave a message online or contact CLIRIK directly:
Email: sales@clirik.com
WhatsApp: +8613512155195/+8613917147829