Over View
Features
Applications
Technical Data
Mica Powder Making Machine
There are minaly three different kind of micr powder making machines in Shanghai Clirik, they are HGM micro powder grinding mill, YGM Raymond mill and CLUM vertical roller mill, all of them can be used in mica powder grinding, besides mica, our grinbding mill also can be used in more than 300 kinds of minerals powder grinding, such as: calcium carbonate, calcite, gypsum, marble, kaolin, limestone, dolomite and so on.

1. High powder fineness process, the powder fineness can be adjusted between 300-2500 mesh;
2. High capacity, there are 5 models mica powder making machine in Shanghai Clirik, the highest capacity can up to 45 t/h;
3. Environment friend, Clirik mica powder making machine id environment friendly, it was popularity by our customers;
4. Factory price, compare with other brand, Clirik is grinding mill machine manufacurer, so we can supply our customer machines in a lower price;
5. Good after sales service, 24 hours hot line can help you relove any problems you meet.
Shanghai Clirik mica powder making machine, can be used in 50 mesh~3000mesh, 5-47 micron. The capacity (ton/hour) ranges from 0.4T/H to 45T/H. Clirik ore mineral crushing, screening, fine powder grinding machine has been exported to many countries which includes China, India, Pakistan, Malaysia, Vietnam, Thailand, Egypt, Nigeria, South Africa, Brazil, Canada, Columbia, Chile, Australia, Russia and so on.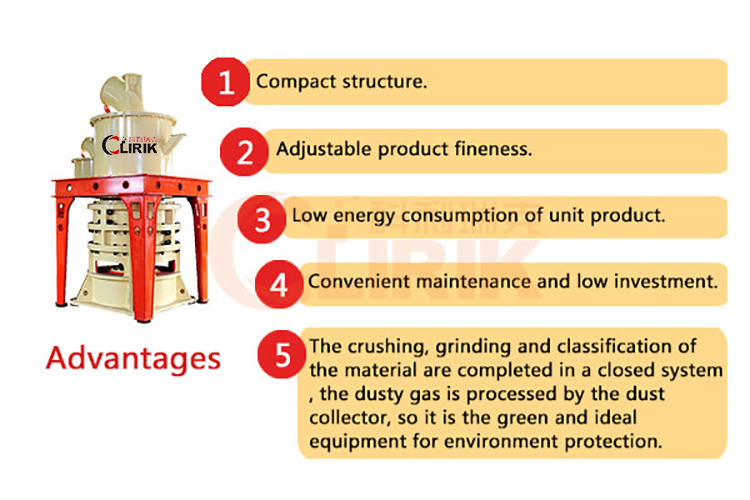 Prrameter of Clirik Mica Powder Making Machine
HGM micro powder grinding mill
Parameters of HGM Series Ultrafine Grinding Mill
Model
HGM80
HGM80A
HGM90L
HGM100L-Ⅱ
HGM100P
HGM125L
HGM1680L
Ring Diameter(mm)
800
800
900
1000
1000
1250
1680
Ring Number (PCS)
3
3
4
4
4
4
4
Input Size (mm)
≤10
≤10
≤10
≤15
≤15
≤20
≤20
Output Size (mesh)
150-3000
150-3000
150-3000
150-3000
150-3000
150-3000
150-3000
Capacity (t/h)
0.5-5.5
0.5-5.5
0.8-6.5
1.2-10
1.2-11
2.5-20
5-45
Outlet Size L*W*H (mm)
8605*4139*6050
10454*3393*6626
11735*3952*7525
14507*3633*7562
14362*4200*7562
19261*4406*8591
25067*5414*9007
Main Motor Power (kw)
75
75
55*2
132/75*2
132/75*2
185
315
YGM Raymond mill
Type
Roller
Max. feeding size(mm)
Fineness of product(mm)
Output (t/h)
Power of machine(KW)
Size(mm)
No.
Dimension(mm)
Height(mm)
YGM7815
3
260
150
15-20
0.025-0.005
0.28-3
18.5
4300*3500*5100
YGM8314
3
270
140
15-20
0.025-0.005
0.35-3.4
22
5300*4100*5200
YGM9517
4
310
170
15-25
0.025-0.005
1.5-6.5
37
7100*5900*7900
YGM4121
5
410
210
15-25
0.613-0.044
3-12
75
7850*8000*9700
CLUM vertical roller mill
Main configuration and production
Model
Item
CLUM1425
CLUM1632
CLUM1736
Working Diameters(mm)
1400
1600
1700
Number of rollers(pieces)
3
3
3
Number of classifier(pieces)
5
7
7
Power of classifier(Kw)
5X15
7X15
7X(15~18.5)
Main unit power (Kw)
250
315
355
Blower power(Kw)
200
250
315
Feed size (mm)
<10mm
<10mm
<10mm
Moisture of feeding material
<3%
<3%
<3%
Less than 2μm=34%
output(t/h)
11-14
13-17
15-19
Less than 2μm=46%
output(t/h)
7-8
9-10
11-12
Less than 2μm=60%
output(t/h)
3-4
/
/
Material: based on calcite
Particle size distribution: measured by micro laser diffraction particle size analyzer in British Malvern3000 instruments