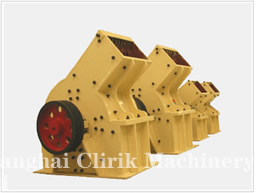 PC series ammer crusher is equipment using high-speed rotary hammers to crush materials, mainly applied to the industries of metallurgy, mining, chemistry, cement, construction, refractory materials and ceramics. It can crush hard and soft ores into medium or small size, such as barite, limestone, gypsum, terrazzo, coal, slag, and up to 100 different kinds.
Working Principle of Clirik PC series hammer crusher:
Hammer crusher mainly consists of frame, rotor, support iron and grate bars. The frame is divided into two parts: upper part and lower part which are welded by steel plates after being cut. Liners made of high manganese steels within the frame can be replaced after being worn out. The rotors consist of the turnplate, pin shafts, and hammers which are grouped regularly in the main shaft.