Raymond mill
is a common grinding equipment, which is familiar to many people. After a period of time, there are always a lot of problems. Today, Clirik will explain several reasons that cause overtemperature of
Raymond mill
, then give you the corresponding solutions.
Methods for resloving the Raymond mill overtemperature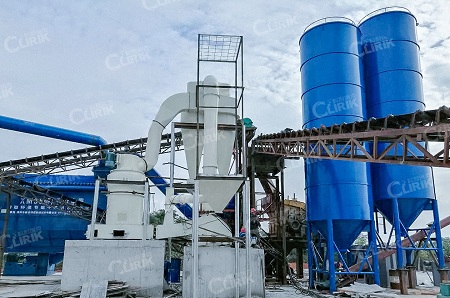 Overtemperature of
Raymond mill
includes different phenomena, like fan motor heating, overtemperature of bearing. Facing these situations, the user should firstly find out the reasons for the overtemperature, and then take the appropriate methods.
1. Check the extension pipe, oil viscosity and oil brand.
2. The feed bear of roller device shall be oiled in time, and cleaned regularly. Besides, the oil seal shall be changed according to regulation.
3. The grinding ring shall be oiled at regular intervals.
4. The indoor temperature of bear shall be less than 70℃. If the temperature is too high, the bear and various spare parts shall be cleaned at least one time.
5. Maybe the fan motor heating is caused by too high wind pressure. Sometimes, the fan motor will be touched by accident, which causes the motor heating. So, don't change the equipment during the production.
6. Last, reasons of
Raymond mill
itself, like unqualified quality. Therefore, it is best to choose those well-known and high-quality equipment.
Raymond mill in stone powder production line
The structure of the
Raymond mill
is mainly composed of a host machine, an analyzer, a fan, a finished cyclone separator, a micro powder cyclone separator and an air pipe. Among them, the host is composed of a machine frame, inlet volute, blade and grinding roller and grinding ring and shell composition.
Raymond mill
machine work, will need to crush the material from the cover side of the hopper into the machine, depending on the host hanging in the grinding roller frame plum, moves around the vertical axis, and its rotation, due to centrifugal force during rotation, the roller swings outward, tightly pressed on the grinding ring, between the the shovel shovel material to the grinding roller and grinding ring for rolling mill roller and achieve the purpose of crushing material.
Raymond mill price
Model:
YGM Raymond mill
Raymond mill capacity:1-28 t/h
Maximum feeding size: below 30 mm
Rated Raymond mill power:18.5-132 kw
Output size fineness:50-450 mesh
If you want to get more details on
Raymond mill
price and operation manuals, welcome to contact us online!