Stone mill also called stone mill machine, stone grinding mill, is specialize in manufacture various stone, such as it can processing calcite, barite, calcium carbonate, limestone, dolomite, potassium long stone, long Whitehead, cobblestone, leaf green rock etc. which hardness below 6 level. In modern industrial, stone mill machine also be used in other area, such as grinding clay, slag, cinder, coal gangue, water slag and various hard mass material. Mining of marble and sandstone mines: due to the relatively easy mining of marble and sandstone mines, so early start application of mechanization in mining.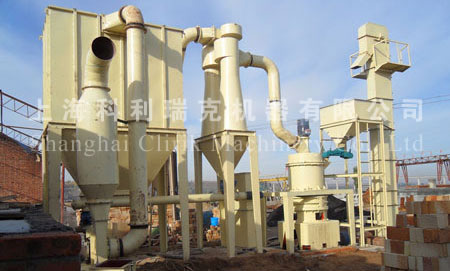 Mining granite mines: relatively large difficulty in mechanized mining granite mines, this equipment is mainly used by diamond circular saw cutting stones, small stones. Outside, there are few mines have successful use of diamond wire saw for mining, most mine drilling expansion method of mining, there are some mines by flame method for mining. Granite mining development direction, to discharge drilling holes machine for drilling, expansive agent accompanied by separation method for mining of aerodynamic separation plant, eventually to the mining of diamond wire saw by direction.
Stone processing industry of application area also constantly of widening, mine of stone after machinery or hand chisel rock, explosives row hole blasting separation rock, on may entered broken device in the (for example jaw type broken machine, counterattack type broken machine, hydraulic cone broken machine, and system sand machine,) for different degree of broken, last made artificial sand, building with sand, or various specifications of building stone! In recent years, Super subtle powder mill technology of development great to promoting has super fine mill machine, stone mill machine, stone mill machine of development, mill machine itself quality and fine of of constantly improve also makes mill machine of using range obvious expanded, almost covers has industrial production of each aspects, including building, smelting, mining, rubber, chemical, each sector, stone mill machine as mill stone of dedicated device, was general mine investors by like, also became has current stone mill of essential device, More is all large mine Shang and micro-powder processing plant of deli Assistant.
Shanghai Clirik machinery company as one of the pioneer manufactures who have engaged in crushers and micro powder grinding mills for 20 years, has strong capability in R&D, design and manufacturing.However, to better meet the challenges of modernization and the needs of international market competition, Clirik still insists on the communication and cooperation with prestigious scientific research institutions from both home and abroad to strengthen its ability in machinery design, production, maintenance, testing and reform.
Related: micro-powder, ultra-fine calcite ore calcite mill, granite powder machine, mine mill