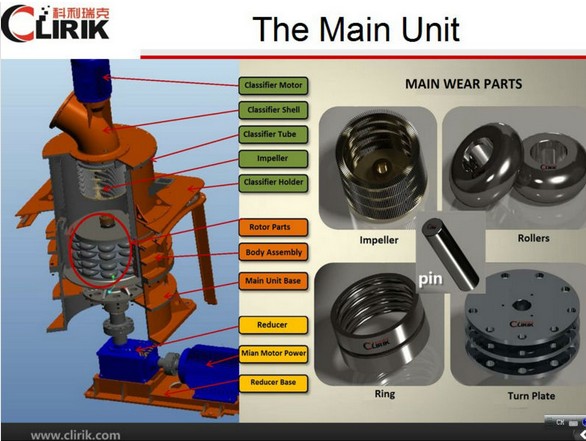 Iron ore grinding mill is an important equipment in iron ore deep processing area, usually as the fine or super fine pulverizing, collocation with crusher, elevator, classifier, powder collector, dust cleaner, blower, muffler, sound-proof room, bucket elevator, storage hopper, and vibrating feeder.
Classifier is a key part of iron ore grinding mill. How does classifier work in grinding mill plant?
Classifier works through the driving of speed motor moves the blade rotation on turntable, to form a classification of iron ore powders. The speed of the blade rotating is to be adjusted according to the particle size of finished iron ore powder products. When need to obtain smaller fineness iron ore powder, it must increase the blade rotating speed, increase the touch numbers between blades and iron ore powder. So undesirable iron ore powder is thrown to the outer wall from airflow by blades rotating, and then falls into the iron ore grinding mill cavity for re-pulverizing. The qualified finished iron ore powder is through the blades drawn into large airflow cyclone collector and the iron ore powder will be collected.
Features of iron ore grinding mill:
1. HGM series iron ore grinding mill is highly efficient (twice as much as jet mill, mixing grinder and ball mill)
2. The spare parts of iron ore grinding mill can serve much longer time (2-3 times longer than that of impact mill or turbo mill.
3. High safety and reliability of the iron ore grinding mill (no rolling bearings and screws in the grinding cavity, so no problems caused by the wear of bearings or screws)
4. The iron ore grinding mills are characterized by high fineness (final size: 325-3000 mesh, D97<5 micron), but other machine can't reach those fineness.