Application of Zeolites powder
Zeolites can perform ion exchange, filtering, odor removal, chemical sieve and gas absorption tasks. The most well known use for zeolites is in water softeners. Calcium in water can cause it to be "hard" and capable of forming scum and other problems. In a similar way zeolites can absorb ions and molecules and thus act as a filter for odor control, toxin removal and as a chemical sieve.
Zeolites added to livestock feed have been shown to absorb toxins that are damaging and even fatal to the growth of the animals, while the basic structure of the zeolite is biologically neutral.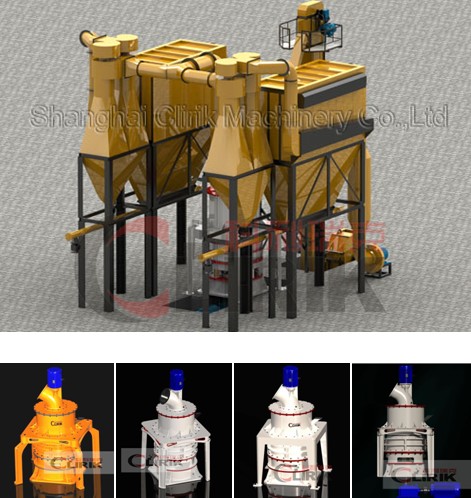 Zeolites grinding mills, grinder mills
Shanghai Clirik Machinery Co., Ltd. is a manufacturer of HGM series
grinding mill
, rock grinder mill, stone grinding mill, ore mill grinder, ultrafine powder mill, and micro powder mill.
Grinding materials of our HGM Micro Powder Grinder mill include various stones and rocks, such as: Kaolin, limestone, calcite, marbles, barites, gypsums, pyrophyllites, dolomites, calcium carbonates, pigments, clays, coals, carbon black, activated carbons, feldspar, talc, mica, carbon black, petroleum coke, alumina, chromic oxide, quartz, cements, up to more than 100 materials. Product fineness can be controlled between 325~2500 mesh.