Magnesite is the chemical composition of MgCO3; crystal belongs to trifocal carbonate minerals. Often iron, manganese instead of magnesium is generally not high, but the iron content of the natural magnesite. The magnesite was usually significant grain-like or aphanites dense block, which is also known as the porcelain-like magnesite. White or gray iron yellow to brown, shiny glass.
Industrial applications mainly reflected in: refractory materials, building materials, chemical raw materials and refined metal magnesium and magnesium compounds.
The hardness of magnesite is 4-5, belonging to the brittle, can be processed in the processing small milling equipment, such as
Raymond mill, high pressure grinding, micro grinding
and processing of magnesite need to pay attention when the water content cannot higher than 6%, 80-1000 purpose powder, and applications in various industries in the production according to the needs of industry. If you are interested in grinding machines, please consult Shanghai Clirik Co., ltd. online chat, they have a high-tech advantage, superior to other manufacturers in terms of equipment, more favorable price, do more in the after-sales service in place, at the same time also to both venues settings as well as the configuration of the production line is excellent mining machinery and equipment manufacturers.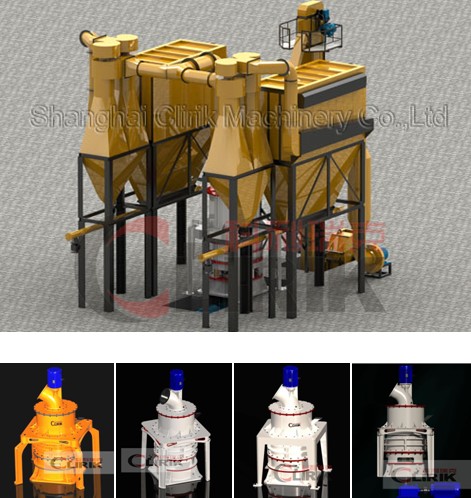 Magnesite fine grinding mill five characteristics:
1, Compared with other mill production increased by 10-20% under the same power conditions, grinding pressure grinding rolls of material 800-1200kg high pressure spring action to improve9.3 mineral materials can be crushed.
2, Finished a wide range of particle size, particle size of the rough up mm (30 mesh), the particle size is generally up to 0.033 mm (425 mesh), and a small part of the material is the most fine to 0.005 mm (3000 mesh).
3. The dust effect fully meets the national standards for dust emissions.
4, Analysis machine easy to adjust
5, The grinding device of overlapping multi-stage sealing, good sealing performance