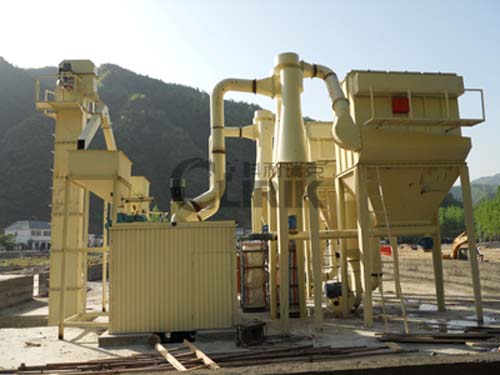 In December 2th a customer from Pakistan came to visit Clirik
grinding plant
---calcium carbonate
grinding mill
, now I will introduce our
grinding mill
in details for all customers who are interested in calcium carbonate
grinding mill:
How does
calcium carbonate grinding mill
work?
1) After crushed by hammer crusher, the large materials become smaller pieces and are sent to the
calcium carbonate grinding mill
.
2) When the calcium carbonate
grinding mill
is at work, the granulated materials are crushed and grinded by the rollers into particles below 47micron.
3) The high-pressure air blower constantly inhales air within the calcium carbonate grinding mill.
4) Along with the high speed airflow, micronized materials are brought to the classifier.
5) The qualified particles are screened and driven into the cyclone powder collector, finally exit from the discharging valve at the bottom;
6) A small proportion of the fine powders, with airflow, moving to the dust cleaner. Filtered clean air will be emitted from the air outlet of muffler in the end.
Compared with other company's Stone grinder; grinding mill, Shanghai Clirik Machinery Co. Ltd.
calcium carbonate grinding mill
has the following advantages:
1) High efficiency
2) Long lifecycle of grinding mill spare partsf
3) High safety and reliability
4) High fineness and flexible adjustment
5) Environment-friendly
6) Advanced intelligent speed control device
RELATED:
Calcium carbonta grinding mill