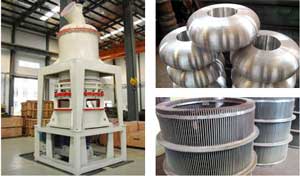 CLIRIK
ultrafine grinding mill
wearing parts like rings and rollers are forged by special resistant materials with high utilization. Under the same grinding raw material and finish special size, the life cycle of spare parts is about one year, which is 2-3 times longer than impact mill or turbo mill. Furthermore, the lifetime can reach 2-5 years for grinding calcite carbonate.
The application of special resistant materials on
ultrafine grinding mill
is the result of CLIRIK engineer and designers' hard work on the basis of multiple innovation, test and experience.
Beside CLIRIK
ultrafine grinding mill
is for super-fine grinding materials with hardness less than 7 in Moh's scale and humidity less than 6 percent such as kaolin, limestone, basalt, calcite, marble, talcum, barite, gypsum, dolomite, bentonite mud, mica, pyrophyllite, sepiolite, carbon black, diatomite, graphite, alunite, fluorite, potassium feldspar, phosphorite, pigment, up to 200 kinds.
The granularity (or final size) of the finished products can be freely adjusted between 325-3000meshes (0.045-0.005mm), and the capacity (ton/hour) ranges from 0.4T/H to12T/H depending on the final size and the grinding materials. At the same time, as the application of resistant materials on CLIRIK
ultrafine grinding mill
, the lifetime of spare parts get greatly extended.