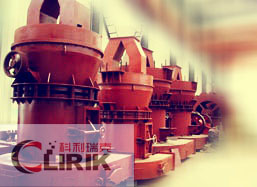 [High Pressure Grinding Mill Application
]
High Pressure Suspension Grinding Mill is mainly applied to the powder processing of mineral products in industries of metallurgy, construction, chemistry, and mining etc. The grinding mill can produce powder from more than 280 kinds of non-flammable and non-explosive mineral materials with Mohs' hardness below 9.3 and humidity below 6%, such as barite, limestone, calcite, granite, porcelain clay, basalt, gypsum etc.
[High Pressure Grinding Mill Main Features and Benefits ]
1. Compared with the common Raymond grinding mill under the same power conditions, the capacity can be increased by 10%; moreover, under the performance of high-pressure springs, the rollers grinding pressure on raw materials can be raised by 800-1200kgf.
2. The final product size ranges from the maximum particle diameter of 0.613mm (30mesh) to the finest diameter of 0.033mm (425meshs).
3. All the mineral materials with Mohs hardness below 9.3 can be crushed.
4. The grinding device adopts a superposition multi-grade sealing with good sealing performance.
5. Its dust-removing effect fully meets the national dust discharge standard.