Grinding mill also named grinding equipment is made by grinding mill manufacturer Clirik, which is designed specially to solve the problems of low capacity and high consumption of traditional industrial grinding mills or grinding equipments. With a decade of years' research of grinding mills, Clirik grinding mill is manufactured based on advanced design idear and the advanced international technology.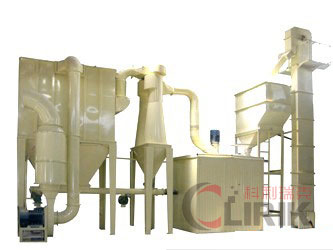 Clirik grinding equipment has adopted reliable structure and reasonable process flow and our grinding mill is the ideal equipment that integrated with drying, milling, classifier, and evevator. Besides this, our grinding mill can fully meets the requirement of clients in the high production of powder and Clirik grinding mill has reached the international level.
Grinding mill application:
Grinding millis mainly applied to proceed the powder crushing manufacturing of the materials such as limestone, calcite, light dry stone coal, vermiculite, mica, fluorite, glaze, slag, barite, wollastonite, kaolin, feldspar, brucite, spores, potassium salt slag, garnet, quartz,etc.
Grinding equipmentis used as secondary grinding mill in stone grinding process. According to our grinding experience, grinding equipment or grinding mill is applied widely in mining metallurgy, grinding mill plant, iron ore crushing plant, stone production line, electronics, medicine, food, agricultural, building construction, road construction etc.
Know more information aboutgrinding equipment: grinder mill
Grinding millclassification:
Grinding millmainly includes Raymond grinding mill, vertical grinding mill, super fine grinding mill, medium speed rollergrinding mill, coarse powder grinding mill, high pressure grinding mill etc.
Grinding millfeatures:
1. High efficiency
Under the same final size and power, the product capacity of ultrafine mill is twice than jet mill and agitation mill.
2. Longer lifetime of spare parts
The roller and ring are made of special material, which improve the grinding efficiency a lot. For same material and final size, the lifetime of its wearing parts can reach to more than one year, about 2-5 times as long as that of vertical shaft impact crusher and turbo-mill. Especially when handling calcium carbonate and calcite, the lifetime can reach 2-5 years.
3. High safety and reliability:
There are no rolling bearings and bolts in grinding cavity, so problems caused by bolts shedding or wear of bearings and seal components will never happen.
4. High fineness of products
The product fineness can reach D97≤5μm.
5. Environment friendly
The application of pulse dust collector and muffler reduce the pollution and noise of the dust, which has reached national environment protection standard.
RELATED: Stone grinding mill;