CLIRIK participated in the Calcium Industry Expo with its core product, ultra-fine calcium carbonate micro-powder mill, vertical mill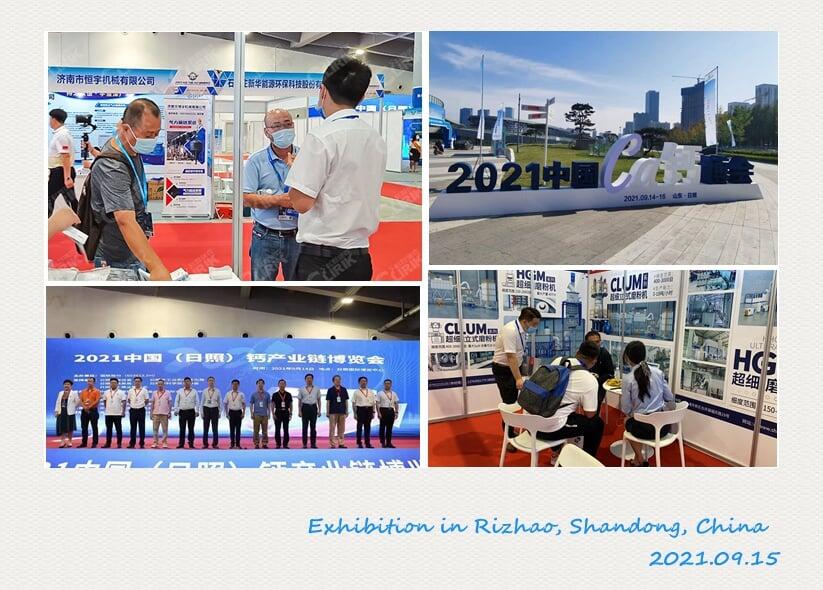 In order to deepen the cooperation opportunities between calcium product production units and equipment suppliers. On September 12-16, 2021, the 2021 China (Rizhao) Calcium Industry Chain Expo will be held in Shandong, China. CLIRIK, as the leading enterprise of calcium carbonate mills in China, was invited to participate in this exhibition.
1. Introduction to Calcium Expo
Expo Name: 2021 China (Rizhao) Calcium Industry Chain Expo
Exhibition time: September 12-16, 2021
Exhibition location: Shandong Rizhao. International Expo Center
Sponsor: Metallurgical Industry International Cooperation Service Center of China Equipment Management Association
Co-organizer: National Engineering Research Center for Ultrafine Powder
Organizer: Guolian Stock (603613.SH) Metallurgical Industry Network Guolian Cloud Sunshine Admissions Network
Co-sponsored: Buyers' Group→A lot of paint, a lot of paper, a lot of plastic, a lot of doctors
(Global trading platform for coatings, paper, plastics, and pharmaceuticals)
Supporting unit: Rizhao City Council for the Promotion of International Trade Rizhao City Bureau of Industry and Information Technology
Rizhao City Bureau of Commerce Rizhao City Science and Technology Association Rizhao City Federation of Industry and Commerce
Zhonglou Rubber Industrial Park, Juxian County Maqi Rubber Industrial Park, Zhonglou Town, Rizhao Stone Industrial Park
Rizhao Pulp and Paper Printing and Packaging Industrial Park Plastic Industrial Park, Liuguanzhuang Town, Ju County
2. Categories of Exhibits
※Powders:
Lime, calcium carbonate (light calcium, heavy calcium, active calcium, nano calcium); ultra-fine calcium oxide, high-reaction calcium hydroxide, high specific surface area calcium hydroxide; calcium carbonate masterbatch, calcium silicate board , Gypsum board, limestone, calcite and other related production units.

※Equipment category:
Ore mining and crushing equipment; conveying, crushing, grinding, motor, metering, fan, unloading and feeding equipment; sorting equipment; loading machinery;
Lime calcination equipment (rotary kiln, double-chamber kiln, beam kiln, Sim kiln, sleeve kiln, environmentally friendly shaft kiln, gas-fired shaft kiln), burner, petrochemical digester, carbonization tower, mixer, drying equipment, vibrating screen , Packing machine, filter press, centrifuge, non-standard ancillary equipment, etc.;
Complete sets of equipment (complete sets of production equipment for calcium hydroxide, ultrafine calcium oxide, nano-calcium carbonate, light and heavy calcium carbonate);
Kiln repair, lining gunned refractory bricks, castables, etc.;
Environmental protection equipment (dust removal, desulfurization and denitrification equipment; waste heat and energy utilization, waste and waste recycling and other energy-saving technologies; sewage treatment technology, sewage equipment, lime slag recycling treatment system);
Testing and laboratory equipment (particle size analyzer, whiteness meter, moisture meter, specific surface area tester, density tester, aperture analyzer, viscometer, element analyzer, powder rheometer, X-ray diffractometer); related research institutes Design units involved;

※Technical services and business cooperation categories:
Production line transformation and upgrading, environmental protection facilities upgrading and transformation, personnel training, docking of investment promotion projects, characteristic industrial parks, etc.

※Cross-border transactions:
International brand enterprises, domestic sole proprietorship (joint venture) enterprises, import and export trade and service providers, etc.
3. CLIRIK participates in Calcium Expo 2021

As a leader in the domestic calcium carbonate industry, CLIRIK's ultrafine calcium carbonate grinder has been recognized by the market and customers. Especially in the field of dry processing of 150-3000 mesh ultra-fine powder, CLIRIK's HGM series ultra-fine grinding and CLUM series ultra-fine vertical grinding have excellent performance. The outstanding advantages are the high whiteness of the finished product, good grain shape, and stable equipment. , Low energy consumption and low pollution.
4. CLIRIK Superfine Calcium Carbonate Mill

Despite these achievements, CLIRIK's exploration of ultra-fine powder has never stopped because of honor. HGM ultra-fine mills and CLUM ultra-fine vertical mills are basically upgraded every two years based on market changes and customer feedback. The current HGM ultra-fine mills and CLUM vertical ultra-fine mills The latest models and parameters of the mill are as follows:
HGM Superfine Grinding Mill
| | | | | | | | |
| --- | --- | --- | --- | --- | --- | --- | --- |
| Model | HGM80 | HGM80A | HGM90L | HGM100L-Ⅱ | HGM100P | HGM125L | HGM1680L |
| Ring Diameter(mm) | 800 | 800 | 900 | 1000 | 1000 | 1250 | 1680 |
| Ring Number (PCS) | 3 | 3 | 4 | 4 | 4 | 4 | 4 |
| Input Size (mm) | ≤10 | ≤10 | ≤10 | ≤15 | ≤15 | ≤20 | ≤20 |
| Output Size (mesh) | 150-3000 | 150-3000 | 150-3000 | 150-3000 | 150-3000 | 150-3000 | 150-3000 |
| Capacity (t/h) | 0.5-5.5 | 0.5-5.5 | 0.8-6.5 | 1.2-10 | 1.2-11 | 2.5-20 | 5-45 |
| Outlet Size L*W*H (mm) | 8605*4139*6050 | 10454*3393*6626 | 11735*3952*7525 | 14507*3633*7562 | 14362*4200*7562 | 19261*4406*8591 | 25067*5414*9007 |
| Main motor power (kw) | 75 | 75 | 55*2 | 132/75*2 | 132/75*2 | 185 | 315 |
CLUM ultrafine vertical mill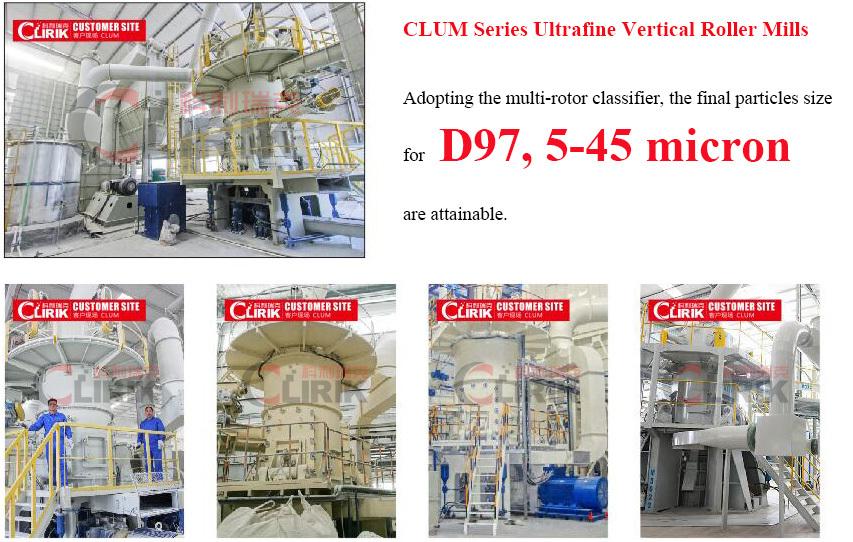 Model Item
CLUM1425
CLUM1632
CLUM1736
Working Diameters(mm)
1400
1600
1700
Number of rollers(pieces)
3
3
3
Number of classifier(pieces)
5
7
7
Power of classifier(Kw)
5X15
7X15
7X(15~18.5)
Main unit power (Kw)
250
315
355
Blower power(Kw)
200
250
315
Feed size (mm)
<10mm
<10mm
<10mm
Moisture of feeding material
<3%
<3%
<3%
Less than 2μm=34%
output(t/h)
11-14
13-17
15-19
Less than 2μm=46%
output(t/h)
7-8
9-10
11-12
Less than 2μm=60%
output(t/h)
3-4
/
/
Material: based on calcite
Particle size distribution: measured by micro laser diffraction particle size analyzer in British Malvern3000 instruments
FAQ
Who we are?

Shanghai CLIRIK Machinery Co.,Ltd. has been committed to the field of ultra-fine powder grinding machines for 20 years.
CLIRIK has a first-class manufacturing base with standardized and intelligent production lines.
CLIRIK's professional R&D, sales, installation and after-sales teams have provided door-to-door services to more than 100 countries and regions.
Which models can be selected for processing ultra-fine powder?

HGM grinding mill: 74-5 micron(200-2500 mesh); D97=5 micron
YGM Raymond mill: 613-33 micron(30-325 mesh); D90=30 micron
CLUM vertical roller mill: 20-5 micron(600-3000 mesh); D50=2 micron D97=4 micron
How to get the latest quotation?

You can leave a message online or contact CLIRIK directly:
Email: sales@clirik.com
WhatsApp: +8613512155195/+8613917147829