After 4 days of hard work, we finally completed the exhibition task. In this exhibition, we have hosted more than 100 customers from more than 10 different countries. And many of them showed their interested in our new technology CLUM ultra fine powder vertical roller mill. In the first day of Bauma China 2018, we were arrived there at 7:00 am, and then we started arrange our booth, we placed flowers, food, and catalogue of our products. To be honest, we already put some basic goods on our booth before the exhibit day.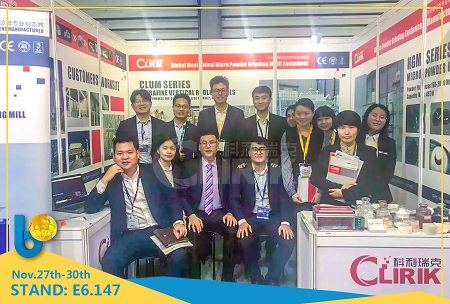 Beside the new customers, we also recommended our old customers to joined the exhibition, they also had seen many different types of stone powder grinding machines, and chat with other company's customers manager, but thanks for our customers trust, after talked with other company, they also choose cooperation with us, with our Shanghai Clirik Machinery. I believe that, because of the professionalism of our technicians staffs and the excellent quality of our products, our stone powder making machines have won the favor of our customers friends.
In this exhibition, we got in touch with the 43 plus new company which we have never met before, and 6 of them signed an order with us. we are very happy to let more customers known about our Shanghai Clirik, and we will try our best to develop more high technology mining use machines for our friends.
Let's see more pictures about this exhibition, and we will see you again, on the Bauma China 2020.