As we all know that the nature stone is too big to put into the
ultra fine mill
directly. So when we use ultra fine mill to process the ultra fine stone powder, we usually choose one hammer crusher as an auxiliary equipment. Generally speaking, the feeding size of the ultra fine mill is less than 20 mm, so we have to crush the materials until it's less than 20 mm, so that we can ensure the final powder fineness made by ultra fine mill has a uniform size.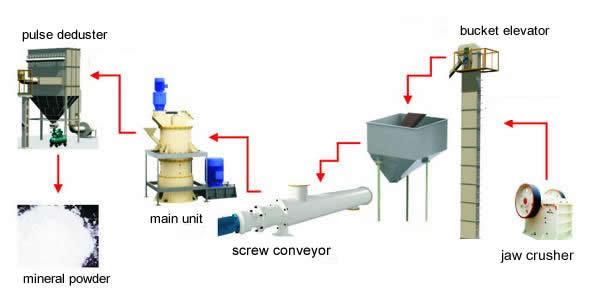 As one of mining equipment manufacturer, we also can supply the service of technical support for every customers. According to our past experience, use ultra fine to process ore materials usually is to use
hammer crusher
instead of jaw crusher to crush the raw materials into smaller size before to use the ultra fine mill to grind it.
Just we have mention that the
jaw crusher
is the common stone materials breaking machine too, so why we usually use the hammer crusher as the common crushing machine before we use ultra fine mill, instead of jaw crusher?
It's very easy to understand, according to our past experience, although the jaw crusher has a larger output and higher efficient, however, the jaw crusher is more suitable for primary crushing, in a other words, the jaw crusher can be used in many stone materials crushing, and it has a lager capacity, but the final stone lumps is not uniform, and it's not good
ultra fine mill
grinding in the next step. So we usually choose the hammer crusher.