In 2014, the revenue of Clirik, the ultra fine
grinding mill
production factory, has increased 30% compared with 2013. At the same time, Clirik has awarded the High-tech Enterprise Certificate and the HGM80
micro powder grinding mill
has awarded the most attention
grinder mill
in the powder grinding industry.
Clirik, the
ultrafine powder grinder mill
production factory, centers on HGM series
micro powder grinding mill
, assisted with crushers, Raymond mill, ball mill, powder modifying machine, powder packing machine, the sales revenue almost get 2 hundred million, 30% increase compared with 2013.
At the same time, Clirik has awarded the High-tech Enterprise Certificate.
Certificate Number: GR2014311000929
Certification Date: 23 October,2014
Duration: 3 years
Approval authorities: Shanghai Science and Technology Commission Shanghai Finance Bureau
Shanghai State Revenue
Shanghai Local Taxation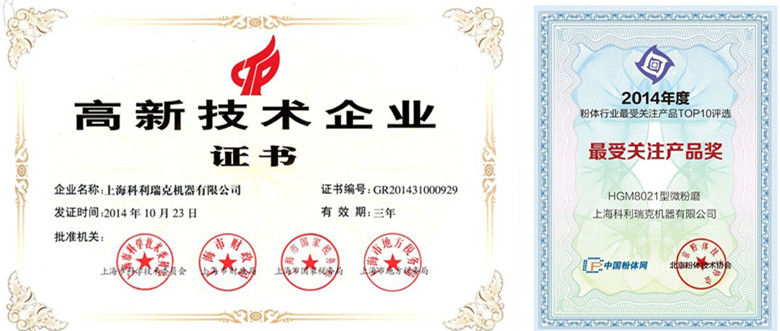 In domestic, Clirik HGM80
micro powder grinding mill
has awarded the most attention grinding mill in the powder grinding industry. Approval authorities: Beijing Powder Grinding Industry Technology Association.
Shanghai Clirik, the leader of
China grinding mill supplier
, thank you for your kind attention and support. In the new year, we will research and design new grinding and crushing technology. Your satisfaction is always our pursuing.
From February 10th to 20th, we will have our Spring Festival, Chinese new year holiday. Any questions and any help, do not need to hesitate to contact us. Our engineer is 24 hours on duty serving for you.