In talc powder production line, talc superfine
powder grinding mill
is the ideal equipment to increase the added-value of talc and process talc powder high efficiently. Talc has very important application value in the production and life, which has favorable market prospect. Employing talc superfine
powder grinding mill
equipment with high cost performance to realize high efficient production and high returns.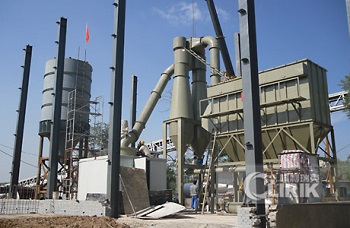 Selecting qualified and high efficient superfine
powder grinding mill
needs to choose professional manufacturers. Suppliers with complete credits and guarantee can make a series of production line. The leading powder making machine has been world-famous for its good quality and first-class after sales service. Professional micro powder grinding mill, superfine powder vertical roller mill and Raymond mill can be applied in metallurgy, construction, chemicals and so on. It is not only the primary equipment in mining powder industry but also takes large part of the foreign market with high competitiveness.
Micro powder grinding mill, the superfine powder grinding and grounding equipment, is certificated as the new equipment that can process powder in a energy-saving and low consumption way, which has combined grinding, crushing and impacting. It has large crushing ratio, high energy utility ratio, small working environmental dust.
Micro
powder grinding mill
is suitable for processing various non-flammable and non-explosive mineral materials with Moh's hardness less than 9.3 and humidity less than 6%, it is widely used in the fields of metallurgy, construction, chemical industry, mining, highway construction etc. It can process quartz, feldspar, barite, calcite carbonate, limestone, talc, ceramic, iron ore, carborundum, bauxite, rock phosphate, coal and other materials, total about 400 kinds of materials.
Micro
powder grinding mill
made in Clirik is in low comprehensive investment cost, fast and high efficient returns, which can help talc powder manufacturer to create splendid development prospect. Welcome to visit our company.