working principle of medium speed micro grinding mill
The working principle of
medium speed micro grinding mill
: the medium speed micro powder mill uses the principle of impact, extrusion and grinding to crush the material, and there is a large gap between the grinding ring and the pin shaft installed on the grinding ring bracket. When the grinding ring bracket rotates with the spindle, the grinding ring by the centrifugal force thrown to the grinding ring, pressing grinding ring and rotates around the inner wall of the pin shaft. When the material through the gap grinding ring and grinding ring, it is impacted and grinded by grinding ring, and then enter the grading room. Qualified fine powder go into the collection system, and the unqualified coarse material is thrown into the inner wall of the shunt ring, and once again enters the crushing chamber to be crushed.Therefore, the material is crushed sufficiently and the fineness of the product is qualified.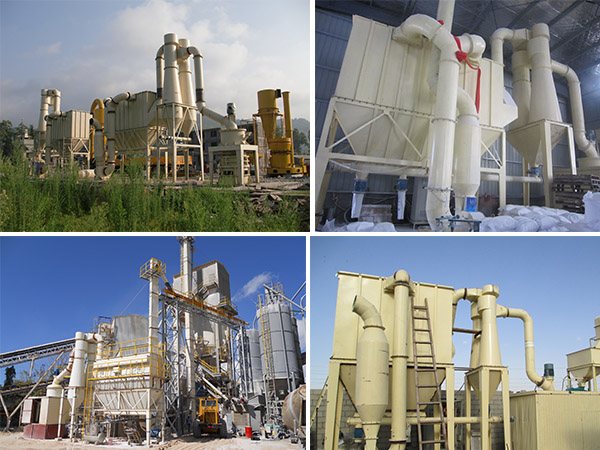 Several problems should be noticed in making ultrafine powder:
First,Contact of the grinding ring and grinding ring is a non rigid contact pad, wherein a layer of crushed material is in the gap, gap between grinding clearance ring and pin is wide. When debugging, in the premise of ensuring the product fineness, it should gradually rise; if feeding too fast, material import is not balanced, the discharging speed decreased, there will be a coarse powder with a particle size of the product is not uniform.
Second,after stopping feeding, there are materials in the crushing cavity, and all the materials must be crushed and discharged and then shut down, so that the next startup will be smooth. After the general stop feeding, it should continue to boot about 5 minutes. When a sudden power failure occurs, the hand disk motor coupling should be used before starting the power, so that the electric power can be flexibly sent out. If the card is jammed seriously, the machine should be cleaned up.
Understanding the main characteristics of medium speed micro grinding, we can correctly operate and use it. In the production process, the equipment performance reached the best state, to achieve high benefit production, environmental protection production, to get the greatest economic benefits.