Mine crusher
, shaker and conveyor is an important part of producing dust. How to achieve the national standard production conditions and the amount of exhaust emissions? We should collect and deal with the dust, according to the nature of mine dust, selecting the appropriate dust removal equipment is the most important. Of course, ZC mechanical rotary backflush flat bag filter and gas box pulse bag filter is the final choice, which is now widely used in the country to achieve Ideal operating results.
Aiming at several dust spots, technical staff of Shanghai Clirik put forward some control measures of dust:
1.dust removal system of raw coal crushing and conveyor should be taken professional measures.
Dust removal system should be bag filter, have anti-static function. The system and equipment shall be grounded with static electricity and shall be equipped with a venting device. Ash bucket should take insulation or thermal measures.
2.the dust-producing equipment is with a closed cover. This creates a uniform negative pressure inside the hood to prevent dust from escaping, or other methods, which make dust into the
atmosphere by the exhaust pipe after purification.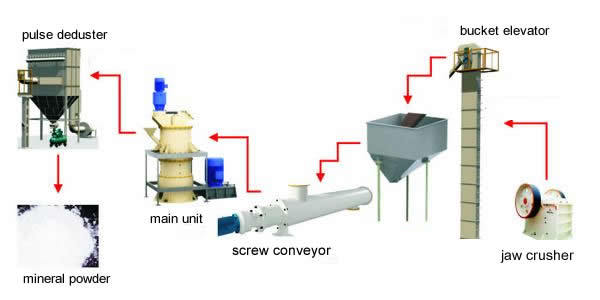 3.dust extraction system in the raw material yard includes dust removal systems of ore crushing, screening, aluminum ore crushing and coal crushing. For dust-producing point of dust-producing equipment concentration, the same dust and the same work system, try to use a large centralized dust removal system to easy for managing, such as limestone crushing, screening dust system, dozens of dust concentration are in a large system. Otherwise a small dispersion system can be used. In most dust removal systems, dry high efficiency bag filter is used.
4.dust removal system of mining crushing system should be set closed device or dust cover in the feeding port, outlet of the crusher or grinding mill which deal with raw ore, lump ore and limestone, dolomite, bauxite, coal and other raw materials the upper part of the belt conveyor and transfer point of belt conveyor and other parts. Receiving Department of Transfer point should be set up double-enclosed hood.
5.discharging car on the trough and feeding station under the trough should be taken dust removal measures. Dust of discharging car on the trough can used moving ventilating duct or car-mounted dust collector, or large-volume airtight enclosures. The quantitative discharge device under the groove can be used with a double-layer closed enclosure. On the dust of blending ingredients slot should be set up an independent dry-type dust removal system, that is bag filter.
If you have other questions about Dust Treatment of
Mine Crusher or grinding mill
, please connect with us.