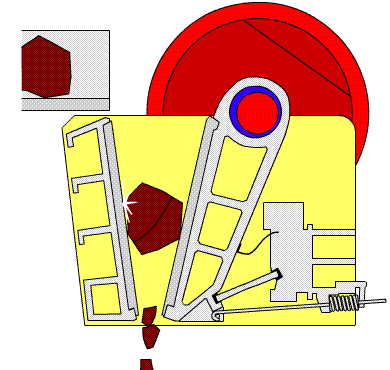 Jaw crusher structure and working principle
The movable jaw goes upward and downward through eccentric shaft when belt and belt wheel are driven by the motor. The angle between movable jaw and bracket turns big when the movable jaw goes upward, which pushes the movable jaw plate to come closely to fixed jaw plate. At the same time, materials are crushed with the movement of the movable jaw.
When the movable jaw goes downward, the angle between movable jaw and bracket turns small. Under the forces of spring and connecting bars, the movable jaw plate leaves fixed jaw plate, and the crushed materials with qualified size are discharged from the crushing cavity. With the continuous rotation of the motor, the movable jaw crushes and discharges materials, which, in turn, realizes the goal of mass production.
Importance of jaw crusher eccentric shaft
In the process of jaw crusher, if have main machine side turn, that will lead to jaw crusher eccentric shaft support larger pressure. Finally it will lead to bend or break.
Eccentric shaft fracture results in different effect on materials crushing. If situation is more serious, it will lead to paralysis of the whole machine cannot work.
Fracture reason of jaw crusher eccentric shaft
Firstly we analyze fracture reason of jaw crusher eccentric shaft, when installing jaw crusher, if installment of main machine is not right place, main machine may happen side turn later. Because force relationship affect eccentric shaft , another situation, if machine is in high load condition in period of time, then temperature of eccentric shaft will higher, after temperature rises high, as heat cannot be effectively discharged . Eccentric shaft will also appear fracture phenomena.
Treatment method for broken eccentric shaft
If eccentric shaft fractures, jaw crusher must appear abnormal working condition. At this time, we should exchange new eccentric shaft. In order to prevent fracture in working, prevention measure is indispensable. At the same time we also pay attention to related matters. When installing, must ensure accuracy of main machine lift and installment to avoid eccentric shaft single force. At the same time adjusting working load of jaw crusher cannot make equipment overload operation long time and make eccentric shaft heat disposal to ensure eccentric shaft normal operation.