Quartz, barite, and fluorite are hard, wear-resistant, high-chemical stability silicate mineral.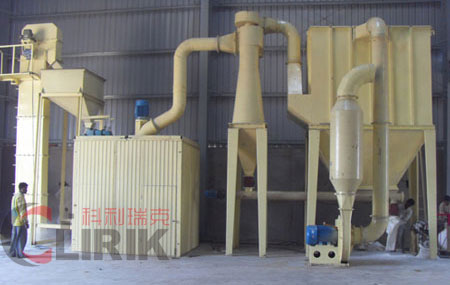 The following introduce is about how to process these ore with high hardness. For example, quartz powder, It is made of mined quartz ore which manufactured by Clirik
grinding mill
s, generally below 120meshs fineness (less than 120meshs). Quartz also calls silica powder. And more than 120meshs products are known as Quartz, also known as silica powder.
Uses of Quartz: dry-mixed( premixed ) mortar, strength non-shrinkage grouting material, grinding industrial floor, warm mortar, preservatives, Nicky polymerization water technology dimension, rubber, plastics, paints, coatings, and other reinforced polymer materials, modification of ceramic products etc.Quartz regardless of rank, only points specifications. Because of its high brightness, no impurities, low iron content, Quartz has particularly broad range of applications.
Clirik has the best
grinding mill line
for high hardness minerals processing. Under the same finished final size and the same motor power, the capacity of Clirik
grinding mill
is twice as much as jet mill, mixing grinder and ball mill. And the application of pulse deduster and muffler greatly alleviates dust pollution and noise. If you want to reduce the cost of production you can choose our
grinding mill.
Barite and fluorite can be processed by Clirik
grinding mill
s as quartz. Want to know more about these
grinding mill
s, please click:
Quartz grinding mill
Fluorite grinding & crushing plant