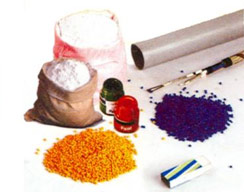 Calcite, aragonite and vaterite are pure calcium carbonate minerals. Other industrially important source minerals which are predominantly calcium carbonate include limestone, chalk, marble and travertine.
Eggshells, Snail Shells and most Seashells are predominantly calcium carbonate and can be used as industrial sources of that chemical. Oyster shells have enjoyed recent notoriety as a source of dietary calcium, but are also a practical industrial source. While not practical as an industrial source, dark green vegetables such as Broccoli and Kale contain drearily significant amounts of calcium carbonate.

Calcium carbonate is widely used medicinally as an inexpensive dietary calcium supplement or gastric antacid. It may be used as a phosphate binder for the treatment of hyperphosphatemia (primarily in patients with chronic renal failure). It is also used in the pharmaceutical industry as inert filler for tablets and other pharmaceuticals.
Calcium carbonate can be added to neutralize the effects of acid rain in river ecosystems. Currently calcium carbonate is used to neutralize acidic conditions in both soil and water.
The main use of calcium carbonate is in the construction industry, either as a building material or limestone aggregate for road building or as an ingredient of cement or as the starting material for the preparation of builder's lime by burning in a kiln. However, due to weathering mainly caused by acid rain, calcium carbonate (in limestone form) is no longer used for building purposes on its own, and only as a raw/primary substance for building materials. Calcium carbonate is also used in the purification of iron from iron ore in a blast furnace. The carbonate is calcined in situ to give calcium oxide, which forms a slag with various impurities present, and separates from the purified iron.
RELATED:
calcium carbonate grinding mill
Should you have any questions, please do not hesitate to contact us:
Contact person: Cherry. Zhao
Tel: 0086-21-20236178
E-mail: clirik_grinder@163.com; clirik@grinding-mill.in
Address: No.19 Fuqing Road, Pudong New Area, Shanghai 201201, China.
Homepage:
http://www.clirik.com