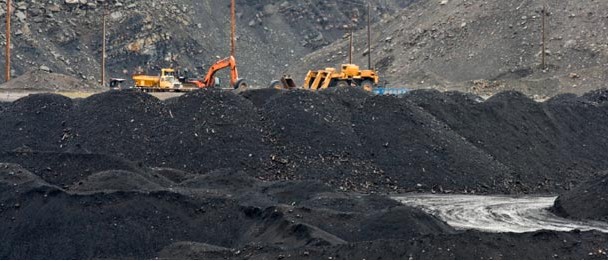 A pulverizer or grinder or
grinding mill
is a mechanical device for the grinding of many different types of materials. For example, they are used to pulverize coal for combustion in the steam-generating furnaces of fossil fuel power plants.
Coal pulverizers may be classified by speed, as follows: Low Speed; Medium Speed; High Speed.
Low Speed pulverizer or grinding mill
Ball and tube mills
A ball mill is a pulverizer that consists of a horizontal rotating cylinder, up to three diameters in length, containing a charge of tumbling or cascading steel balls, pebbles, or rods.
A tube mill is a revolving cylinder of up to five diameters in length used for fine pulverization of ore, rock, and other such materials; the material, mixed with water, is fed into the chamber from one end, and passes out the other end as slime (slurry).
Medium Speed pulverizer or grinding mill
**Three and four rings ultrafine grinding mill
Grinding materials of Ultrafine
grinding mill
:
Grinding materials of our HGM series ultrafine
grinding mill
include various stones and rocks, such as: Kaolin, limestone, calcite, marbles, barites, gypsums, pyrophyllites, dolomites, calcium carbonates, pigments, clays, coals, carbon black, activated carbons, feldspar, talc, mica, carbon black, petroleum coke, alumina, chromic oxide, quartz, cements, up to more than 100 materials.
Working principle of ultrafine
grinding mill
:
The main bearing and each dial are driven by electromotor of main machine through reducer, and numbers of rollers, which are rolling in the ring, are driven by dial through plunger. After crushed by hammer crusher, the big materials become small ones and are sent to storage hopper by elevator and further sent to the middle of first dial evenly by the electromagnetic vibrating feeder and feeding pipe. The materials will be driven to the edge of dial by centrifugal force and fall down into the ring, crushed and grinded by roller, and become powder after production of three rings. The high pressure centrifugal blower will inhale air from outside and blow the crushed materials to classifier. The rotating turbo in the powder concentrator will make the coarse materials return to the mill and reground, while the fineness will mix with the air and go into the cyclone and be discharged in the discharge bin, which is at the bottom of it. The air, which mixed with very little fineness, will be purified by impulse duster and discharged by blower and muffler.
Technical advantages of Ultra fine
grinding mill
:
1. The grinding mill of HGM80 is high efficient (twice as much as jet mill, mixing grinder and ball mill)
2. The spare parts of grinding mills can serve much longer time (2-3 times longer than that of impact mill or turbo mill.
3. High safety and reliability of the ultrafine mill (no rolling bearings and screws in the grinding cavity, so no problems caused by the wear of bearings or screws)
4. The HGM80 Grinding mills are characterized by high fineness (final size: 325-3000 mesh, D97<5 micron)
5. Environment-friendly
**High pressure suspension
grinding mill
High pressure suspension grinding mill is suitable for processing various non-flammable and non-explosive mineral materials with Moh's hardness less than 9.3 and humidity less than 6%, it is widely used in the fields of metallurgy, construction, chemical industry, mining, highway construction etc,. The granularity of the finished powder size can be adjusted between 50 and 325 mesh (315-45 micron). Examples of processing materials include quartz, feldspar, barite, calcite carbonate, limestone, talc, ceramic, iron ore, carborundum, bauxite, rock phosphate, coal and other materials, total about 400 kinds of materials.
Peculiarity of High pressure suspension
grinding mill:
High pressure suspension grinding mill has the similar working principle as High pressure suspension grinding equipment, but its grinding device is fixed with 1000-1500kg pressure springs. When the machine works the grinding roller, which under the action of high pressure spring and centrifugal force, rolls close up to grinding ring, its rolling pressure is 1.2 times higher than that of High pressure suspension grinding equipment given an identical condition and its capacity increase 20% to 30%; When the grinding roller and grinding ring, stable capacity and fineness are guaranteed.
Operating Principle of High pressure suspension
grinding mill
:
Big materials are crushed by jaw crusher to the required particle sizes, and carried by bucket elevator to the storage hopper, and are fed evenly and continuously by vibrating feeder into the main unit for grinding. The grinded powder are carried by the airflow from the blower to the classifier to be classified, the particles which meet the fineness enter cyclone collector through pipe, and are separated and collected there. They are discharged at the discharging valve to become finished products; the airflow is sucked to the blower by return pipe on the top of cyclone collector. The whole airflow system is a sealed circulation, and is circulated under positive and negative air pressure.
High Speed pulverizer or grinding mill:
**Attrition Mill
Rotor, Stationary Pegs
**Beater Wheel Mill
**Hammer Mill
Used on farms for grinding grain and chaff for feed
**Demolition pulverizer
An attachment fitted to an excavator. Commonly used in demolition work to break up large pieces of concrete.