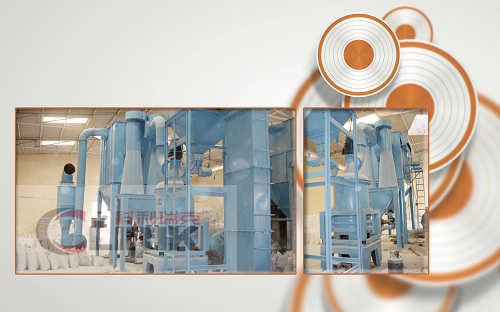 A grinding mill (also called mill, mill grinding, or mill grinder) is a unit operation designed to break a solid material into smaller pieces. There are many different types of
grinding mill
s and many types of materials processed in them.
In materials processing a
grinder
is a machine for producing fine particle size reduction through attrition and compressive forces at the grain size level. See also crusher for mechanisms producing larger particles. In general, grinding processes require a relatively large amount of energy; for this reason, an experimental method to measure the energy used locally during milling with different machines was recently proposed.
1) Ball mill
A typical type of fine grinder is the ball mill. A slightly inclined or horizontal rotating cylinder is partially filled with balls, usually stone or metal, which grinds material to the necessary fineness by friction and impact with the tumbling balls. Ball mills normally operate with an approximate ball charge of 30%. Ball mills are characterized by their smaller (comparatively) diameter and longer length, and often have a length 1.5 to 2.5 times the diameter.
Ball mills are commonly used in the manufacture of Portland cement and finer grinding stages of mineral processing. Industrial ball mills can be as large as 8.5 m (28 ft) in diameter with a 22 MW motor.
2) Rod mill
A rotating drum causes friction and attrition between steel rods and ore particles. But note that the term 'rod mill' is also used as a synonym for a slitting mill, which makes rods of iron or other metal. Rod mills are less common than ball mills for grinding minerals.
3) High pressure grinding mill
High pressure grinding mill is suitable for processing various non-flammable and non-explosive mineral materials with Moh's hardness less than 9.3 and humidity less than 6%, it is widely used in the fields of metallurgy, construction, chemical industry, mining, highway construction etc,. The granularity of the finished powder size can be adjusted between 50 and 325 mesh (315-45 micron). Examples of processing materials include quartz, feldspar, barite, calcite carbonate, limestone, talc, ceramic, iron ore, carborundum, bauxite, rock phosphate, coal and other materials, total about 400 kinds of materials.
4)
Ultra fine grinding mill
Ultra fine grinding mill can process superfine powder of non-inflammable, non-explosive and brittle materials with Mohs' hardness under six, such as calcite, chalk, limestone, dolomite, kaolin, bentonite, talc, mica, magnesite, illite, pyrophyllite and vermiculite, sepiolite, attapulgite, rectorite, diatomite, barite, gypsum, alunite, graphite, fluorite, rock phosphate, kalium ore, pumice, etc., totally more than 100 kinds of materials. Product fineness can be controlled between 325~3000 meshes.
Ultra fine grinding mill
mainly consists of main unit, classifier, powder collector, dust cleaner, blower, muffler, sound-proof room, crusher, bucket elevator, storage hopper, and vibrating feeder.
5) Tower mill
Tower mills, often called vertical mills, stirred mills or regrind mills, are a more efficient means of grinding material at smaller particle sizes, and can be used after ball mills in a grinding process. Like ball mills, grinding (steel) balls or pebbles are often added to stirred mills to help grind ore, however these mills contain a large screw mounted vertically to lift and grind material.