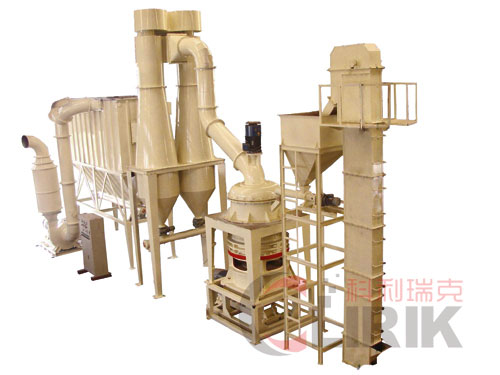 Grinder mill, stone grinding mill
is used to grind stones or rocks and mine ores into powder in ore mining, construction building materials, cement grinding plant and ceramics industry. According to the different fineness, choose the different
stone grinding mill
to make up the complete powder grinding plant. The purpose of the
stone powder
grinding mill
is for super-fine grinding materials with hardness less than 6 in Moh's scale and humidity less than 6 percent such as kaolin, limestone, calcite, marble, talcum, barite, gypsum, dolomite, bentonite mud, mica, pyrophyllite, sepiolite, carbon black, diatomite, graphite, alunite, fluorite, potassium feldspar, phosphorite, pigment, up to 200 kinds. The granularity (or final size) of the finished products can be freely adjusted between 325-3000meshes (0.045-0.0057mm), and the capacity (ton/hour) ranges from 0.4T/H to 12 T/H depending on the final size and the grinding materials.
The
stone grinding mill
has special character. According to your requirements, choose the fit equipment to compose the complete grinding line with crusher equipment s and other mining equipments.
Stone grinding mill
manufacturer
Shanghai Clirik machinery Co., Ltd. is a manufacturer of HGM series
grinder mill
,
stone grinding mill
.
Should you have any questions, please do not hesitated to contact us:
Contact person: Cherry. Zhao
Tel: 0086-21-20236178
E-mail: clirik_grinder@163.com;cherry201201@hotmail.com
Address: No.19 Fuqing Road, Pudong New Area, Shanghai 201201, China.
Homepage:
http://www.clirik.com
;
http://www.mill-grinding.com
;
http://www.grinding-mill.in
;