The whole set of
micro powder grinding mill
consists of :Hammer crusher , Bucket elevator ,Storage hopper , Vibrating feeder,Air compressor ,Air blower,Main unit ,Inverter classifier ,Powder collector , Dust collector ,Electrical control systems.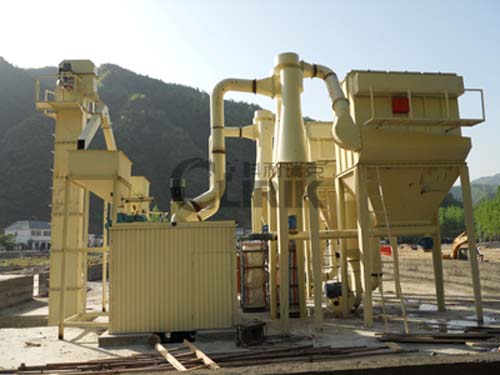 How does the parts of
micro powder grinding mill
work?
Hammer crusher
: Crush the big materials into smaller ones.
Bucket elevator
: Send smaller ones to the hopper.
Vibrating feeder :
Send materials to the upper distribution of the turn plate (one part of main unit)
Main unit
: When it works, numbers of rollers are moving in the ring, and the centrifugal force will force them to the edge of the turn plate and fall down.
Air compressor
: Inhale air from outside and bring the powder in the main unit to the classifier
Classifier
:The rotating impeller inside it will make the unqualified powder go back and grind again. Meanwhile, the right ones will enter powder collector along the air.
Finally
, the powder will come out from the discharge valve of powder collector