Clirik talcum grinding machine includes raymond mill, vertical mill, high pressure grinding machine,micro powder grinding machine. Different machines selection depends on the talcum hardness, final products size etc. Our engineer could design special talc grinding machine with professional experience for our sincerely miners and clients.
Clriik Machinery offers HGM series ultrafine powder grinding mill for talcum powder grinding process, HGM series ultrafine powder grinding mill constitutes employed for grinding talc into powder fewer than 0.044mm. The accomplished talcum grinding plant includes jaw crusher, elevator, vibrating feeder, classifier, collector cloth deduster and high-pressure blower.
High pressure raymond grinding mill can produce grains in the range of 60-1250 mesh(It can even reach to 2500 mesh).It is possible to produce 10-60 mesh powder through assembling special device in the machine.
Talc grinding machine: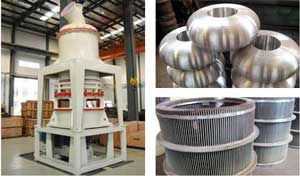 From the mines, the talc ore is brought to our grinding units. The ore is washed and dried to eliminate any unwanted material adhering to it.
The blended ore is then ground to the desired particle size distribution. Median particle sizes can range from less than 1 micron to 15 microns, and top cuts from 6 microns to over 100 microns.
Talc powder grinding process:
Talc --> coarse crushing --> secondary and fine crushing --> grinding --> classification --> fine grinding --> classification
Talc flotation process:
Talc --> coarse crushing --> screening --> fine crushing --> classification → flotation → concentration → filtering → drying