mica powder grinding mill for Cosmetics and Aviation Industry
Crushed mica powder is important raw materials of cosmetics and aerospace industry. Before processing mica powder for cosmetics or aerospace industry, you need firstly pulverize mica stone to be 325mesh ~ 2500mesh. Clirik offers HGM series Ultrafine Mill to grind mica stone. And you can choose open circuit or closed circuit powder grinding system according to your real situation.
Grinding Mills Pulverize Mica for Cosmetics
Cosmetics and aviation materials industry introduction
The application of mica powder varies according to its fineness. For example, the mica powder with fineness between 8mesh and 20mesh is mainly used for building materials which can help make waterproof, fire protection, thermal insulation and decorative. The mica powder of 60mesh~120mesh is often used as blending agent of paint, filler, cover and lubricants of rubber, filler of plastic. And also it's the basic raw material for mica ceramics.
In cosmetics or aerospace industry, the mica powder is good additive which can enhance the shining effect of cosmetic and ensure better reflected light effect by spraying mica paint on the surface of aircraft. However, in cosmetics or aviation industry, the needed mica powder must be pulverized into 325~2500mesh.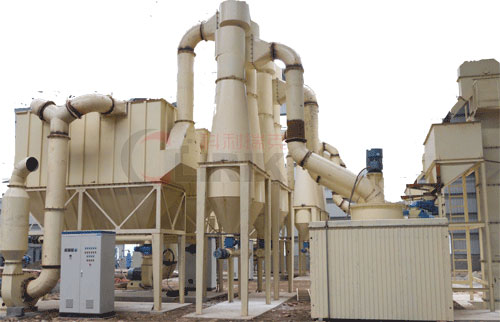 Ultrafine Grinding Mill
Raw materials used in cosmetics and aerospace industry:
Materials: Mica Powder
Fineness Requirement: 325 mesh ~ 2500mesh
Clirik grinding mills to pulverize your mica to be 325mesh ~ 2500mesh:
HGM Ultrafine mica grinding Mill
Clirik HGM series ultrafine grindning mill works to pulverize mica stone into powder with fineness between 325mesh and 2500mesh which is totally suitable for cosmetics or aviation industry. Clirik can offer you the complete mica powder grinding system with both open-circuit and closed-circuit available. In addition to the whole Powder grinding plant, we can also supply you packaging machine which can follow the grinding process to package mica powder.
.